Travelling and using the opportunity to practice good actions seems twice as wonderful, isn´t it? And it is! This practice exists, and it is called voluntourism. Many countries already are reference on this modality, like some on the African continent such as Mozambique, Tanzania, Kenya and South Africa. Maybe you already knew that, only not how it is called.
A recent study made by Edelman Brazil and Panrotas showed that 10 million travelers already practice this kind of tourism. The number must double until 2020. The market niche moves around R$ 550 million all over the world.
But a warning stays: voluntourism isn´t the same as taking vacations
It is important to remember that unlike going on vacation, when you have the freedom to make your own schedule, follow or adapt yourself to a pre-determined route made by a tour agency, the voluntourism requires commitment and actions to be done according to the project´s goals.
Beyond doing what you like to do, it is important to "pack on your bag" your skills and lots of disposition. It is essential to check the compatibility between the volunteer´s profile and the work needed on the destination, so the project and the trip can be a success!
To volunteer abroad, the website Voluntourism.org is a good start! If you want to visit initiatives and meet amazing projects, but is not willing so much to have a hands-on experience, choose your destination through the platform Visit.org
In Brazil this activity is still starting, but a Brazilian website about collaborative consumption made a research of agencies that mediate this experience. At Raízes we decided to bring together our expertise in travels (do you know that the sustainable tour agency Vivejar is a spin-off from Raízes?) with our women empowerment project. Soon volunteers will be able to participate 🙂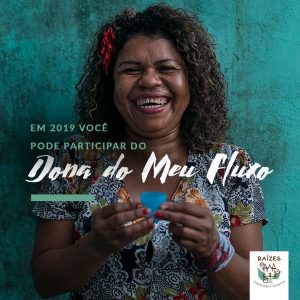 Dona do Meu Fluxo 2019
In 2019, Raízes will open volunteer´s applications to Dona do Meu Fluxo (the name of the project means "owner of my own flow"), Amazon edition. (Read here the news related do the project). We will select women, from different areas, to support the realization of the workshops about women empowerment. The agenda includes organizing lectures, monitoring activities, distributing the menstrual cups donated and visiting the communities, amongst others.
We will release the guidelines and open applications soon, with details about costs, dates and more about this beautiful project in partnership with Koruí. This will be the third time this project happens. The goal is to spread knowledge about the use of the menstrual cup, women empowerment and stimulating these women to know more about their own bodies. This includes questions about sexuality to women from riverine communities. The 2019 edition will be on the Amazon region, focusing on the riverine communities from Pará, expanding the work we began on 2018.
The application guidelines will be released in February. Keep following our social networks to know more. Also take this opportunity to see the videos from previous editions. Dozens of women were directly benefited by this project, including ourselves.