Hands that embroider plants, flowers and animals that are endemic to Ipoema, a region surrounded by a national park and around 90 kilometers from Belo Horizonte, the capital of Minas Gerais State on the Southeast of Brazil. Hands that embroider their identity, culture and tradition. 13 women are part of the Ipoema's Embroiderers Project, rescuing and potentializing their history and, now, expanding their potential to the world through a creative economy social project.
On the last few weeks we began one more project through Vale Foundation. The embroiderers will pass through a more active and effective process of entrepreneurship qualification. The group will have orientations about design, lectures and workshops about traditional and contemporary embroidery techniques, besides other themes. They will also create their own collection that will go to the market after all the capacitation stages, as well as continuing the collection together with the craftswoman from Senhora do Carmo district.
"The project strengthens the local knowledge, contributing to the transformation of a traditional knowledge that is recreating a way to be in the market. The products have characteristics of market trends, they are useful accessories, that at the same time bring the regional identity", tells Jussara Rocha, Raízes project coordinator.
Two projects, one affinity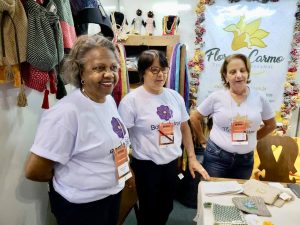 Since May 2018, the sewers made some actions together with Flores do Carmo project. We met Ipoema´s group when we were widening the actions the Carmo´s group, seeking to include other craftswomen groups and to enlarge the handicraft productive chain and stimulate the regional creative economy, bringing together the weaving and embroidery.
This how the Tropeirismo collection was born, with some of the projects being the toiletry bags embroidered by the craftswomen from Ipoema. Since then, they participated of the Handicraft National Fair, the Brasília National Salon and together they have been participating of regional and local fairs. Besides that, the creations are also available through the website and can be send all over Brazil.
The groups integrate, but at the same time each one has their own life. And that is very important to give density to this creative economy's productive chain.
"This project is about equality; it is a woman´s project. Women that strengthen themselves and begin to see that mutual support and sorority are important amongst them, that they are capable of generate income, capable of making this activity a job (that before could be only a hobby) with a real possibility of change and achieving dreams. Now they see themselves stronger and more capable, and this is fundamental for them to motivate other people, women and girls. They show that they are capable of bringing a very positive impact to the local community, generating income, development and visibility to the region", says Jussara to finalize.
We will bring news here as the actions happen. Keep updated with us!